As per the latest release (dated July 11, 2005) from Fortune Magazine, five Indian PSUs made into the the Global 500 list. This is a much better show by India Inc. compared to last year when only four Indian Companies managed to be a part of the top 500. While Indian Oil Corporation (IOC) moved up the chain by 19 positions to occupy 170th slot, Reliance Industries (RIL) improved its standing with a staggering 417th position.

Bharat Petroleum Corporation Limited (BPCL) continued its good show by climbing 21 places up to reach 429th position. Another Oil major Hindustan Petroleum (HPCL) managed to better its previous position by 26 places to occupy 436th rank. Oil and Natural Gas Corporation (ONGC) made its maiden entry to the mighty list with a decent 454th position.

Fortune magazine rating is purely based on the Revenues reported by the corporations to the regulatory authority. A closer look at the financial summary of these Indian giants reveals some interesting facts.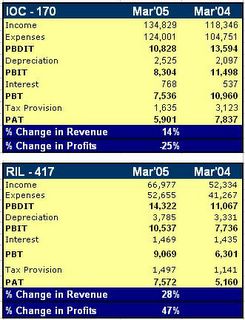 Indian Oil Corporation has managed to increase its net revenues by 14% compared to the previous year. But, IOC has failed to capitalize on the increased sales and reports a declining trend in profit.